Welcome to Casa Arco Iris!

Parking at side / front of home. Room for 2 or more cars, and the gate can be closed for added privacy.

Home is located on a large corner lot with numerous fruit trees.

Great tasting Mangos, Lemons, Cherry, Cashew and Banana, not to mention numerous flowering shrubs and trees!

More outside views

More outside views

Flowers outside

Flowers outside

Fully stocked kitchen and dining area. All plates, pots, pans, silverware, microwave, toaster, blender, coffee maker, etc are provided!

Airy & open kitchen, fully stocked, plus a great view from the kitchen window!

Fully stocked kitchen and dining area. All plates, pots, pans, silverware, microwave, toaster, blender, coffee maker, etc are provided!

Airy & open kitchen, fully stocked, plus a great view from the kitchen window!

Kitchen decor

Living room - very open and inviting. Everything is clean and comfortable!

Living room - very open and inviting. Everything is clean and comfortable!

Cable TV, Internet and local phone are all included in this convenient beach house rental.

Bedroom with two twin beds (note: all beds have two sets of sheets provided for your convenience and comfort)

Bedroom with two twin beds

Bedroom with two twin beds

Bedroom with two twin beds

Bedroom with two twin beds - closet area & mirror.

Master bedroom - with queen bed - brand new comforters and sheets, very comfortable! (note: all beds have two sets of sheets provided for your convenience and comfort).

Master bedroom

Master bedroom - closet area.

Outside BBQ grill for cooking! BTW, did you know that the "Cashew Nut" is both a fruit and a nut - come visit our home and pick cashews from the tree and roast them on our BBQ and make juice from the fruit!

Christmas in Panama - our "Corona" Christmas Tree!

Walking past our neighbors home to the beach.

More neighbors on way to beach.

Neighbors on way to beach... All very nice homes.

Sidewalk to beach... As you walk along, you will be passing homes that belong to some of the wealthiest Panamanians.

Arriving at beach, walking once again between multi-million dollar homes.

The beautiful, clean warm waters of the Pacific! (Note: the sand has a lot of "black sand" that has migrated to the Coronado beach area from the all "black sand" beaches of San Carlos. This is NOT a dirty beach).

More beach views

More beach views

More beach views

Daniel & Luis ~Two local artisans that have helped us with this home!

Our other casita has air conditioning, LOL!

The inflight menu on the way home, LOL!




Testimonial:
We had a pleasant stay at the house and maybe in the future we will go again to panama and can ask to rent it again. Anibal was very helpful and a very nice person for us. The house was really wonderful, typical Panamanian, what we were looking for. we have used the bbq lots of times of course.... Thanks for the nice house and the perfect stay we had.
With kind regards,
Tom de Koning

---

Check out our other Beautiful Vacation Rentals in Las Vegas and Southern Oregon:

---

If you are interested in an exciting Vegas vacation, check out our beautiful home in Las Vegas, Nevada: www.vegasoasis.com

And if you'd like a vacation by the river in beautiful Southern Oregon, check out our vaction rental homes on the scenic Rogue River: www.GrantsPassCabin.com
For other questions call Dan Dhondt at:
1-888-969-7262 (from USA) or 1-775-450-7077
Or Email Dan at: webmandan@gmail.com
It will take you less than 5 minutes to walk to the beach from this super cute 2 bedroom, 1 bathroom house located within the exclusive gated community of Coronado, the "Panamanian Riviera" primarily made up of vacation homes for the wealthy, with 24 hour security - all part of the Coronado Golf & Beach Resort with Golf, Beach, Tennis, and Equestrian activities all on site (day use fees required). This lovely Beach Bungalow is located just an hour from downtown Panama City, Panama. Simply cross the "Bridge of the Americas" and follow the Pan American highway up to Coronado!
Our home is only a few minutes away from golf and tennis courts, 5 minutes from 24 hour supermarkets, shopping, hospital, pharmacy, restaurants (cool local Panamanian places as well as all the big U.S. names such as; McDonald, Subway, KFC, etc.)
The exclusive Coronado Golf and Beach Resort Community also includes access to the beautiful Pool and Social Areas (day use fees required), as well as on site Restaurants and Spa facilities - all very high end, yet very affordable by American standards...
Maid service, Taxi service, Child Care and other services are all readily available, either through the resort, or with independents.
Our beach home is located in a particularly desirable area of Coronado, about three blocks from the exclusive Coronado Beach Resort (on the Pacific), and less then two blocks to the ocean, walking past multi-million dollar homes along the way...
This super cute and comfortable home is fully furnished with new appliances and has been freshly painted. The kitchen is fully stocked with all conveniences, utensils, etc. All linens are provided along with towels, beach towels, etc. It has new windows and air conditioning and is ready for you to use.
When you are enjoying the porch overlooking the huge yard, you will see fruit trees waiting for you to pick from them (Lemon, Mango, Papaya, Cashew, Coconut, etc) and at night you canhear the ocean as you relax.
2 blocks to the beach, 2 bedroom (1 queen bed & 2 singles) hot shower, fully furnished, air conditioned, ceiling fans throughout, new windows, large yard and fruit trees!!! Sleeps 4, with 2 parking spaces. Rent it for as little as $99 USD per day (or as little as $59 per day during the off-season, May through October).
If you need advice about things to do or places to see while visiting any of our properties - please ask! We look forward to having you stay and would enjoy providing you with travel suggestions or assistance with your itinerary if you need it.
You can also Visit us at:
Viviun
,
See Us at Flipkey
, or
TripAdvisor
.
Furnished
Appliances
Laundry Room
Patio
Cable TV
High Speed Internet
Gated Community
Safe & Secure
One Block To Beach
Fully Furnished
Fully Stocked
Super Cute!
Clean & Comfortable
Housekeeping & Laundry Service Available
Listen To The Waves At Night From The Front Porch
Many Activities Nearby
Fresh Fruit From Trees On Site
(Mangos, Lemons, Cashew, Coconut)
A/C And Fans Throughout
Local Phone
Washing Machine - Brand New!
For Reservations,
call Dan and Aimee D'hondt at:
1-775-450-7077
For other questions call Dan Dhondt at:
1-888-969-7262 (from USA)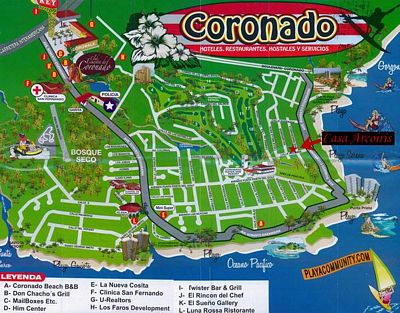 Map of Coronado and the EXACT location of our home nestled among the MILLION dollar mansions! Casa Arco Iris is located just a block away from the beach (note: it is about a two block walk to get to the actual beach) and you can hear the waves from the beach at night when everything is quiet ! (note: the location of the home is marked by the "red star / red arrow" on the right side of the map)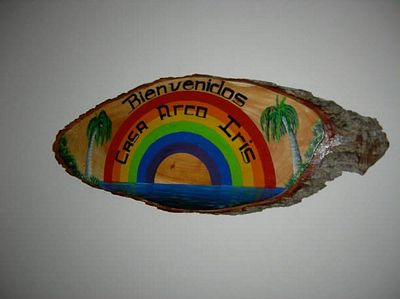 Bienvenidos ~ Casa Arco Iris! This sign was handmade for us by an Artisan in El Valle - just 30 minutes from Coronado - up in the cool mountains..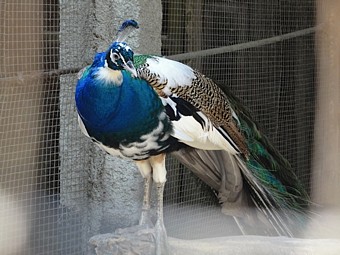 Local zoo



Local zoo



Local zoo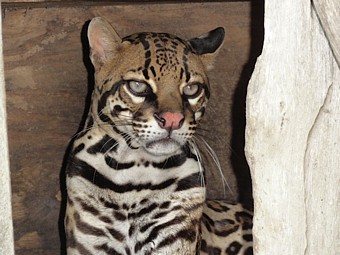 Local zoo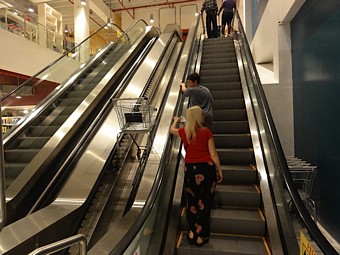 New shopping mall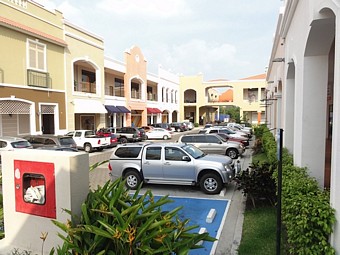 New shopping mall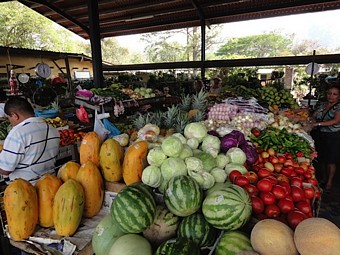 Farmers' Market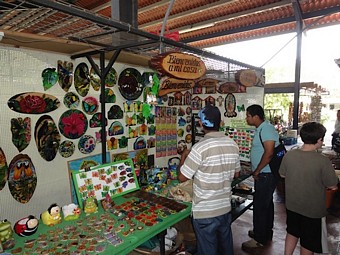 Farmers' Market



Click Here for Panama Pacific Coast English Community News & Events